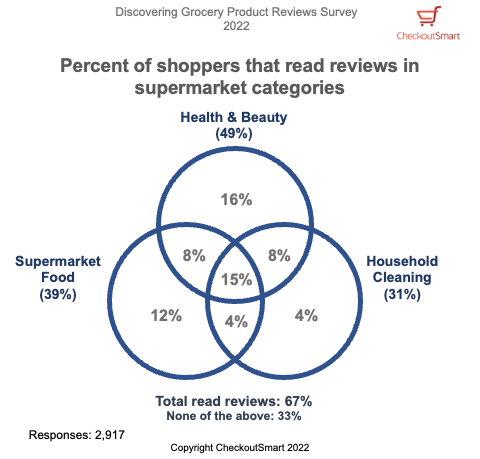 There is general agreement amongst members of the FMCG / CPG eCommerce community that grocery ratings and reviews are an important factor driving the rate of sale on retailer sites. However, many believe this is only when a shopper is actually doing their online shop.
Our research across nearly 3,000 regular grocery shoppers says this is not correct. These days, shoppers are looking for grocery product reviews both when they are in or near a store, at home, at work, and even walking down the street.
The key findings are:

Online and Offline grocery shoppers regularly seek out and read product reviews. They can be at home, in-store or frankly anywhere when this happens.
Google is the friend of the shopper seeking grocery reviews, so brand owners need to have enough good quality reviews in all relevant online stores.
Shoppers are prompted most often to discover product reviews by seeing a product in-store, ads / social posts or when looking for a new product in a familiar category. Therefore it is critical if you are marketing to shoppers your products are supported with reviews.
Research Online and Purchase Offline (ROPO) is a common grocery shopper behaviour but this is taking place at the fixture in an Omnichannel way. Many shoppers see a product they are curious about in the store, and their first instinct is to read the reviews wherever they find them, and then choose to buy it right away.
This research shows that grocery product ratings & reviews are used far more widely than just when shopping online and are a key driver of the purchase decisions online & in-store.