One of the biggest changes for Shopper Marketing teams in the last 18 months has been the meteoric rise in Online grocery shopping driven by the shopper's needs arising out of the Pandemic. In turn, this has brought focus from brands on their reputation on the digital shelf in the form of product reviews, but many brands are disappointed by what they have seen. To help, we launched our SmartReputation solution which works with ordinary grocery shoppers to ensure they are fairly represented.
SmartReputation not only allows your products and brands to get the reviews and shopper feedback they deserve but also monitor the content of the reviews looking for trends. We can also ensure they stay fresh over time (i.e. the oldest is less than 6 months old) as we know this is the second most important factor in driving choice amongst grocery shoppers after having at least 30 reviews. For more, read our comprehensive survey of what drives online grocery shopper choice with reference to ratings & reviews.
To see the trends in supermarket product ratings and reviews we have looked back a year to compare the reviews visible on the Top 6 retailer sites in September 2020 to those in September 2021. Intuitively, you would think that the number of reviews has gone up in that time pretty much universally, well you'd be wrong. In some categories, in some retailers, total reviews by category have dropped dramatically whilst in other categories with good numbers of SKUs they are still well behind the curve in terms of getting fair representation on shelf i.e. the average reviews per SKU which really needs to be 30 or more.
Major Categories
To gain some orientation to supermarket ratings & reviews in the UK, here are the major Category totals covering over 62,137 like for like SKUs ie those that were present in Sep 2020 and 2021. Tesco has the most reviews in total with ASDA and Sainsburys not far behind. Waitrose is mid-table with Morrisons around a quarter of the Top 3 and Ocado bringing up the rear.
Ocado has so few because to have a review published on their site, you have to have bought the product from Ocado, this is something we deliver as part of our product reviews solution SmartReputation which covers all six retailers. See why CheckoutSmart is the best solution for ratings and reviews.

The top major Category is not surprisingly Health & Beauty with over 2 million reviews, followed by Household. However first and second are reversed when we look at reviews per SKU, with Household averaging 329. From our reviews read by category research we see a very similar pattern: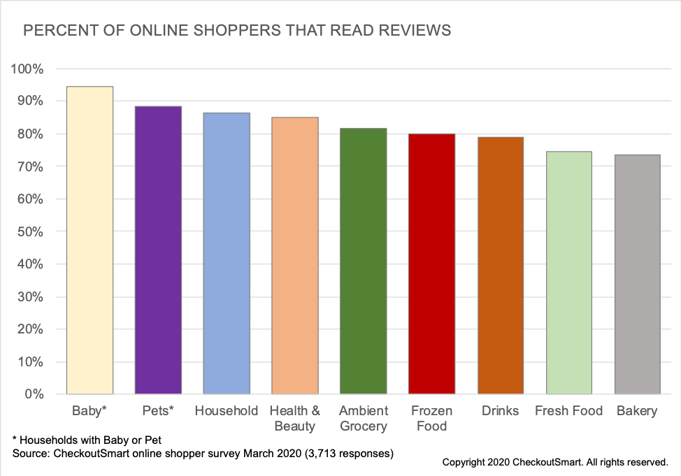 What is also important from our research though is the importance of reviews in all categories, with even the lowest at over 70%.
Product Categories
The Top 10 product categories within grocery are listed below in order of reviews per sku. Not surprisingly Household and Health & Beauty continue to dominate with no food or drink items. Having said that, Tesco, ASDA & Sainsburys have very high levels of reviews whilst Morrisons, Waitrose and Ocado have very few in comparison. At CheckoutSmart we can help brands deliver genuine ratings & reviews in all top UK supermarkets (and lots more retailers besides).
It is hard to believe that ratings & reviews are so important in such a well established and everyday category as Hand Dish Washing but other areas such as Nappies and Air Freshener make more intuitive sense.
Trends in the last year
Reviews going up:
The table below shows the Top 10 categories growing reviews in total by September 2021 vs a year ago. It is a very similar list of Household and Health & Beauty categories with the addition of dog food. Tesco has had by far the biggest increase in reviews, this is perhaps not a surprise given they were late to the reviews party only making them visible about 2 years ago (see Tesco's Hidden Ratings & Reviews for more).
What stands out most however is the very low level of Morrisons reviews that have been added in these categories and only 15,809 overall. Even Ocado and Waitrose have added nearly 10 times that level in the same time period. If you want to add reviews in Morrisons you need our SmartReputation solution, with that you get a guaranteed number of genuine shopper reviews onto the Morrisons in the easiest way possible.
Reviews going down:
Whilst most categories in most retailers have been growing total reviews as you would expect, there are some that have decreased dramatically. The table shows the biggest fallers in terms of total reviews for the year to September 2021.
The Men's Razors and Blades category has lost over 40,000 reviews in a year. Looking a little deeper it appears that the Gillette brand has lost some very large numbers of reviews on some products, especially in Tesco.
Likewise, the biggest drop within a single retailer is 36,944 reviews in Hair Colourants in Tesco, again driven by one brand Clairol where some products have "lost" over 2,000 reviews. As you can see from the table these are by no means isolated cases. Asda and Sainsburys have similarly removed reviews on items that have continued to be listed.
These are big changes in the overall reputation of a brand as seen by their reviews. There is no doubt that this will have impacted their sales negatively in the retailers, not just online but in-store also due to the ROPO effect (Research Online Purchase Offline). For example, 67% of shoppers who bought nappies in-store did online research and comparisons in the two days leading up to the purchase (MySupermarket).
How to avoid a reduction in your reviews
Although we would be speculating as to the cause of these changes, in each case it is clear that the retailers are using their discretion to remove reviews wholesale from their sites. This may be because of a general falling out between the brand and retailer or perhaps because the retailer has taken exception to the content or manner of collection of the reviews.
To avoid issues it is best to ensure that your reviews are genuine and added one at a time directly by shoppers. This is how we work and why we are the leading supplier of ratings and reviews in the UK. For more see our SmartReputation site or our summary of the benefits of CheckoutSmart reviews.
If you would like to know more about the changes in your category or brands for you or your competitors then please Contact us for a bespoke report.