As we go through a surge in online shopping, now is the perfect time to ensure your brands get their fair share of sales both now and in the future. Of course you should ensure you have the right images and descriptions, as these form "the basics" of eCommerce. It is also fundamental to your success to offer the undecided a perspective from their fellow shoppers through Ratings & Reviews. Genuine shopper product reviews delivered from validated buyers directly to the retailer sites, without any moderation on a specific sku are the best way of doing this and will make an immediate impact to sales.
Delivering Ratings & Reviews
At CheckoutSmart we have been working successfully for some time with numerous FMCG brands on ratings & reviews. With the thousands of ordinary shoppers who are members of our unique program we are able to use digital mobile technology to get them to buy any specific product from any supermarket in-store or online, try it at home and then leave an unbiased review on the retailer website. These reviews provide valuable feedback to the brand and can be augmented by surveys, giving immediate feedback on user experience and shoppers' repeat purchase intentions. Here's how it works: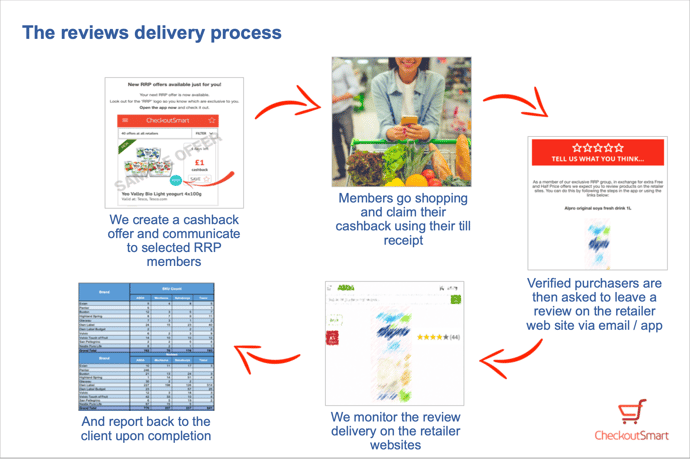 Are Online Reviews relevant to my Category?
This is a question we have been asked many times. We believed that ratings & reviews were relevant to all categories, but we wanted to make sure. To find out we surveyed members of our regular promotional cashback program Smart Activation about all manner of things related to their attitude towards online shopping and how they view and use product reviews.
From the 3,710 responses we received we now know that ratings are reviews are read in all categories by more than 70% of online shoppers and categories with strong branded presence are read the most: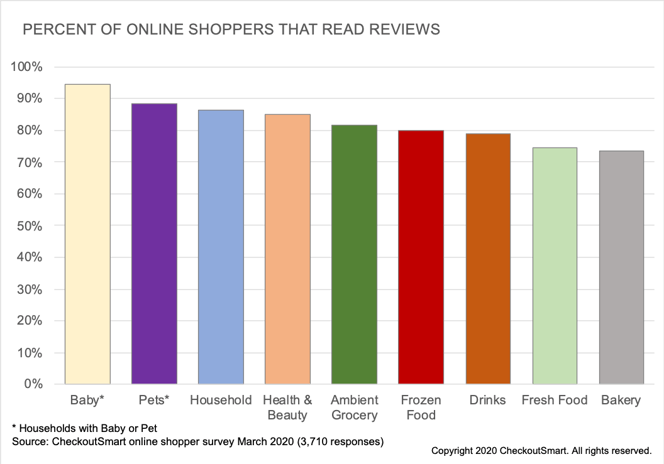 When we looked at all households; the percentage that read reviews in Baby and Pet did look very low, but taking into account only those households with either Baby or a Dog/Cat in, then they became top of the pile with 94% and 88% respectively. All other categories are above 75% with just the exception of Bakery at 74%. In other words nearly 3 out of 4 online shoppers read reviews in every major supermarket category.
We did survey below each of these categories to get the detailed sub-category data and have all the results if you want to know where yours sit. The highest sub-category for all shoppers was Laundry (80% reading), but when you look at women shoppers only, Facial Skincare is top with a whopping 85% reading online product reviews. The lower levels tend be those where own label is higher, with Fresh Ready Meals lowest amongst the main categories at 54.7%, however that is still more than half of online shoppers will read reviews in every sub category.
Learn more about online product ratings & reviews
We have results from our survey on all sub-categories in terms of who reads reviews. We also have many more insights, looking at the important of different parts of a review (Hint: the number of reviews is more important than the rating until you get to roughly 30-50 reviews. After this the rating is more). We also have demographic, regional, retailer data and much more in the most comprehensive survey of online supermarket reviews of its type.
If you are looking to understand how supermarket shoppers use online product reviews and a few facts to convince your business of how important they are then contact us.
How to get moving on supermarket Ratings & Reviews immediately
With our unique approach we can get activity rolling to deliver your ratings and reviews immediately. See more on our approach here. For us it is also not just about delivering ratings and reviews. Our SmartReputation program effectively outsources this whole area, letting us manage all skus and NPD in a simple guaranteed service solution.
From our clients' own experience, doing this will make a lasting difference to your rate of sale. They have reported to us a permanent 25-35% increase in rate of sale. For a case study on how we delivered for Kellogg click here.
Could there be a better time to work on ratings & reviews than now?