As a leading digital shopper marketing agency, we are always looking to extend our understanding of the ever-changing grocery shopping environment. Recently we undertook a survey of regular grocery shoppers to understand how they shop on Tesco online and what they think about their experience.
The feedback tells us that there is opportunity for Tesco.com to grow faster but also some significant threats in the wings. Everything we asked has been collated into a comprehensive 20-page report which is available to download. We have pulled the highlights together into a summary SWOT analysis below, together with a few examples of the charts in the download.
If you would like the full report it is available to download here.
SWOT Analysis
The SWOT (Strengths, Weaknesses, Opportunities & Threats) slide summarises much of the output of our research. Naturally there are some more questions not covered in this blog, many of which are more general online topics, such as what drives shoppers to seek out new products. All charts can be reviewed in the full report, but for now here is a summary:
There are real strengths for Tesco in terms of the loyalty of their online shoppers (based on their frequency of shopping) and the importance to them of wider Tesco marketing programmes, such as Clubcard.
On the other hand, there are some real concerns for Tesco as well. For instance, no part of the Tesco online shopping experience stands out as particularly great to shoppers. Their online marketing activities have very little cut through with shoppers, who also have low levels of engagement in the Health & Beauty category in particular.
There are lots of Opportunities for Tesco. Despite their size and the loyalty of their shoppers, Tesco are only capturing a reported 56% of regular online shoppers' supermarket shopping spend. These shoppers have said they have expandable budgets, with only 7% reporting shopping to a fixed budget. Where are the personalised basket spend threshold offers for online e.g Spend £100 get £8?
Also, despite Tesco hitting 16% of their sales from online as reported by Kantar recently, there is still much more business they could do online if they increased their delivery slots event further or decreased their delivery charges. We reported the same results as in August in our Post Covid shopper survey. Surely this is something the new boss Ken Murphy will look to deliver quickly?
All is not rosy in the Tesco online garden though. There are some real Threats if the grocery competition can take on the risk and push ahead. Only half of the Tesco online shoppers put Tesco as their favourite shop, and this is something they will need to address. If any of their competitors were to move towards Free delivery, then 37% of their shoppers might be open to switching to their favourite retailer instead. Health & Beauty as a category is also a concern as 45% of their shoppers do not buy on Tesco.com, exposing them to other retailers and the risk of switching.
To hold or even increase their market share in online shopping there are some obvious if margin diluting places to go for Tesco in the shorter term, such as more delivery slots and cheaper delivery. However, there are some harder places to go in the longer term such as addressing some weaker areas such as Health & Beauty and Home Entertainment, which currently do not engage enough with many shoppers.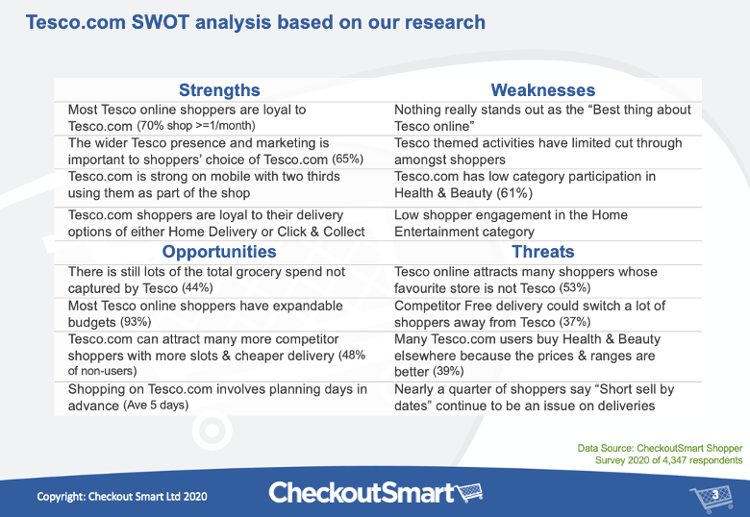 Full Report Available
We have a full 20 page report on our research including all the figures quoted above in context plus many more charts and stats besides. To get our report simply click here:
Below are just three of the charts in the report:
1. Mobile First
Tesco online shoppers are mobile first, suppliers should follow suit. That means ensuring all digital shelf elements such as photos and descriptions work on mobile. It also means working with mobile first shopper marketing solutions such as cashback from CheckoutSmart which can deliver instant activity in any retailer. See our blog article on 10 Ways cashback apps can help Grocery brands for more on how we can help.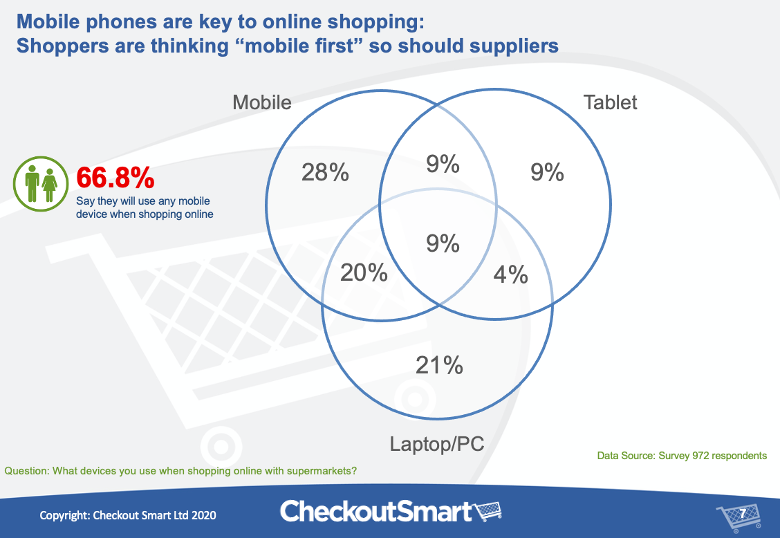 2. Not everyone's favourite shop
Many regular Tesco online shoppers have a favourite store that is not Tesco. The biggest grocery spenders overall are not surprisingly shoppers whose favourite shop is Ocado or Waitrose. For those that favourited Aldi & Lidl, 45% of their spend is with Tesco.com. It is no wonder that both retailers are experimenting with Click & Collect in the UK, as they have a lot to gain and Tesco have potentially a lot to lose.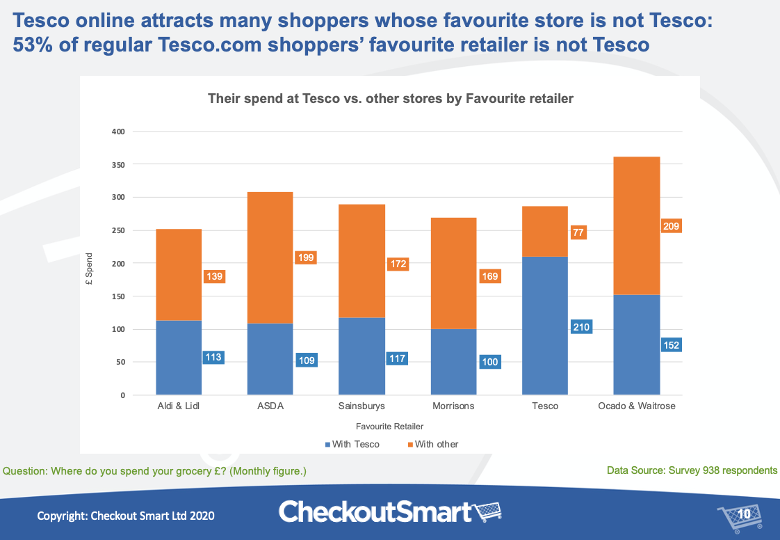 3. Health & Beauty - an area to improve on
We asked a few more questions about the Health & Beauty category. We can run surveys of much greater depth against any retailer, channel, category or sub-category with very fast turnaround (from 5 days).
Use our Contact us form to make an enquiry about insights we can deliver for you to help make better decisions.
When Tesco.com shoppers who did not shop in the Health & Beauty category (39%) were asked why not, Prices and Range came through loud and clear. With the opportunity to provide blended picking i.e. from front and back of store, stock space and "shrink" could become less of an issue for Tesco. Surely they will find a way to up their range and manage their prices down accordingly to increase their shopper participation in this vital area?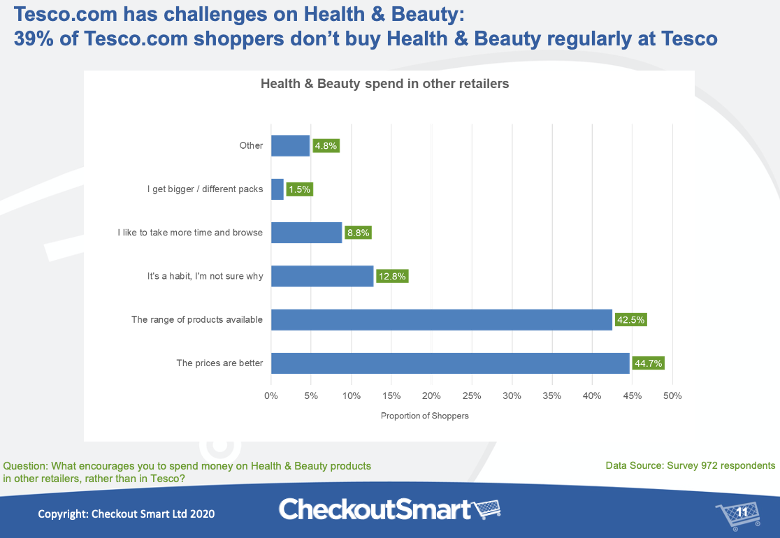 Download our complete results presentation:
There is a full report available containing all the charts backing up this SWOT analysis and a lot more detail on each area. To get our report simply click here: