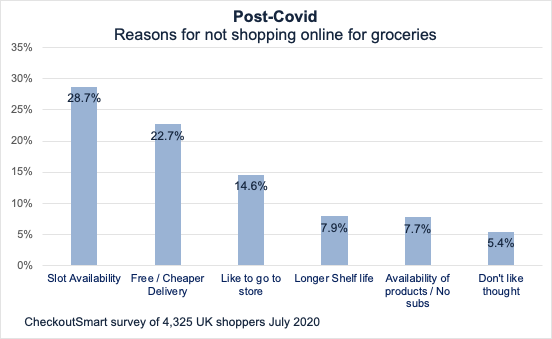 We surveyed members of CheckoutSmart to understand their experiences of shopping during Covid-19 and their views on how their behaviour will change when things "more or less return to normal". In total 4,324 members responded, over 3,100 of whom are also online grocery shoppers.
The survey focused on how their grocery shopping experience had changed pre and during Covid-19 restrictions and their personal expectations on how their behaviour will change going forward. This blog article contains a summary of the most relevant results. More detail on specific topics may be available, please contact us to hear more.
The most significant finding is that online shopping could still grow even faster post Covid if retailers can address the two major concerns shoppers have of slot availability (which is surely just a matter of time) and the cost of delivery which must surely come down with scale and the the recent move by Amazon.