Q. What happens when the government says "stay at home"?
A. People get up early and go to the supermarket!
Kantar* have just said that grocery sales were up 20.6% in March to their highest ever level, peaking 16th - 19th March. From our analysis of shopper's receipts submitted to us as part of cashback claims, we can see that they were up much earlier than usual that week, probably to "avoid the crowds" or just get there when items are in stock. This happened again the week after, when the restrictions were increased as the chart below illustrates: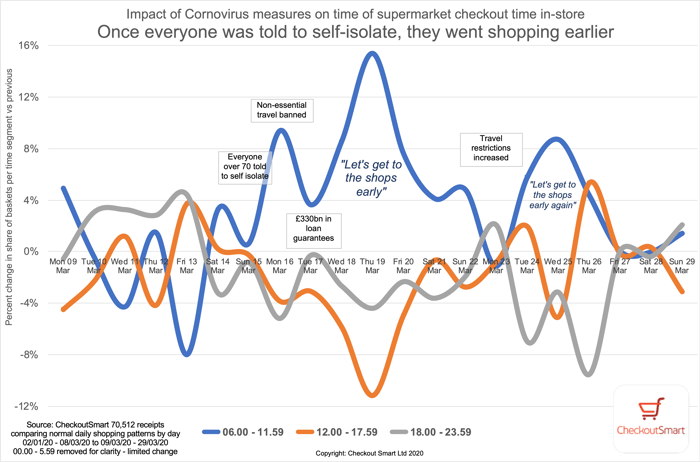 By last weekend things were looking to calm down again as the shopping times at least returned to normal. To know more about.
So when do Grocery shoppers normally go shopping?
We analysed the in-store shopping receipts we received in 2018 and published a report on shopping times (Report on when grocery shoppers shop). We saw in the analysis a marked difference between when UK supermarket shoppers usually shop in during the week and at the weekend.
During the week the volume of baskets builds through the morning, peaking around lunch time. After this it drops off, but picks up again in the 4-6pm slot as shopper pick up "tonights tea". At the weekend things look a little different. Basically, sales lift through the day (starting a little later than weekdays), peaking for a late lunch and then just falling away as the days goes on from there.
If you are a brand trying to get shopper marketing activity away therefore, you would want to be present from 9am most days and through the middle of day to around 7pm.
And when are the big Grocery shopping days in the week?
Perhaps not surprisingly our analysis shows that the biggest three supermarket shopping days in the week are Thursday, Friday and Saturday, accounting for around 50% of the sales in the week. Sunday to Wednesday therefore also account for 50%. This makes Thu - Sat on average 33% bigger than Sun - Wed.
What is important here is not just the shopper insight about when grocery shoppers go shopping, but what you can do to take advantage of it if you work in Shopper Marketing? How do you ensure you can influence shoppers first thing in the morning on Thursday and Friday and all day Saturday? You could send a field team to store but then which store managers are keen to let shoppers in Friday and Saturday, that answer is not many.
So what should I do about it?
The way to influence shoppers in-store all the time is to do it through the thing they have with them all the time. This is exactly what we do at CheckoutSmart. We place mobile cashback offers onto the mobile phones of grocery shoppers all over the UK via our app and website. They then engage with these offers by buying the products and claiming the cashback. This drives trial, rate of sale and market share for brand in an immediate and impactful way. See our Birds Eye case study here to see how successful this can be for NPD as well as existing skus.
It is not all about in-store however, we all know that online shopping is continuing to rise. To positively influence online shoppers all the time you need to get your ratings and reviews correct. Make sure you are properly and fairly represented on the retailer sites. Our program is the perfect way to do this in a simple manner with a low start up cost. For more on our ratings & reviews program see our introduction here and our Kellogg case study.
* Link to Kantar report here.