Simply having 30 product reviews with an average rating of +4 is not enough to guarantee success. In fact, it's less than half the job. To truly convert shoppers, you need to have at least 30 high-quality reviews on every retailer site, and they need to be "fresh" - less than 6 months old. But it's more than this, it's about the ones that get read, the latest ones or the "Top 3" as we call them. These reviews must be positive and have influential text to maximize your conversion rate. To achieve this, you need to work with a partner who can deliver high-quality reviews across all retailers.
After analyzing the Top 3 visible reviews for all products on Ocado's website, our data revealed that 52% of the reviews are 5-star, but only 18.3% are less than six months old. However, even those recent reviews may not be the most influential ones. To create the best reviews, they must not only be 5-star and fresh but also contain the right components. So, what makes a review text more influential?1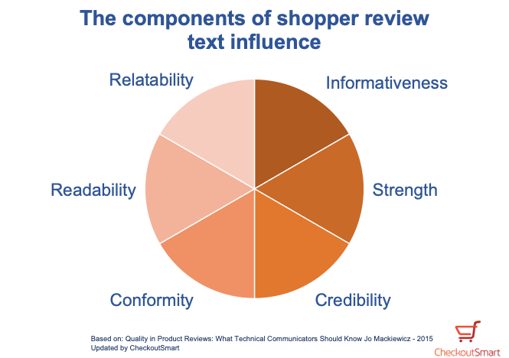 1 From Quality in Product Reviews: What Technical Communicators Should Know Jo Mackiewicz - 2015
In this post we look at all 6 components of influential reviews and provide examples of "the best" of each. We will then go on to answer two vital questions:
- How do you know if you have the best reviews?
- How do you get and maintain the best reviews?
NB All example data and reviews for this post are from Ocado data collected at the end of April 2023. All reviews are from the Top 3 latest reviews available on each item ie those most likely to be read by the shopper.
Introduction
As we have shown previously, getting 30 reviews on any product sold by an online supermarket is a good start. However, there is more to the influence of reviews than simply having 30. To be most influential, a review also needs to be recent ie less than 6 months old and one of the Top 3 visible ones. That is because shoppers look at the number of reviews and assuming a reasonable average rating (+4), they go on to read a few reviews to ensure they back up the numbers.
This is where the "really good" reviews come in. When a shopper is looking to switch products in a known category or try a new category of products, they read the Top 3 reviews. Brand owners should therefore looked to ensure that the latest reviews are fresh and influential.
What makes an influential review?
In a 2015 study by Jo Mackiewicz from Iowa State University titled "Quality in Product Reviews: What Technical Communicators Should Know", the analysis of reviews from JD.com revealed six key areas that contribute to a shopper's overall perception of a product's influence.
Informativeness: The research describes informativeness as:

Review length (word count) ie longer reviews are more informative
A balance of subjective (evaluative) and objective (descriptive) statements are best
Explicit statements of recommendation and of expectations met are more informative



Strength (Valence): The degree of positivity or negativity of the entire text ie its combined total impact. Is it consistent and strongly worded throughout or are there caveats decreasing the influence?


Credibility: Reviews in which reviewers assert expertise, especially by asserting prior experience with similar products and by asserting that they have conducted research on the product or category will have more influence.


Conformity: Two types of review conformity influence quality:

External conformity, the extent to which its rating corresponds to the rating consensus of neighbouring reviews
Internal conformity, the extent to which a review's text corresponds to its star (or other) rating. In other words a 5-Star review must be a wholly positive review to be influential.
Readability: The term "readability" for shopper reviews has two meanings.


Whether a shopper can comprehend, or cognitively process, a text (common)
Whether shoppers perceive a document as comfortable to read, a characteristic deriving from a document's visual design (occasional)
Relatability (Writer Characteristics): This is effectively anything about the writer themselves beyond authority that makes them more influential, often some relatable aspect allowing the reader to think "that's like me" or "that's my situation".
At CheckoutSmart we use a calculated measure that combines Informativeness and Readability to build our current "Influence score". We are creating fresh measures using ML / AI techniques to product a more complete measure in the near future.
Examples of influential 5-STAR Reviews
Informativeness
The Body of the review below is 490 characters long. This is nowhere near the longest on Ocado (3,478 characters for Jason's Sprouted Grain Sourdough 450g) but over 3 times the average of 160 characters. It meets all three characteristics for Informativeness.
It is longer than most reviews (whilst not being so long it discourages finishing reading)
There are a balance of subjective and objective descriptions
Cleary recommends purchasing

While the review for Faith in Nature Aloe Vera Conditioner is well-written and informative, it falls short due to its age of 229 days, surpassing the recommended six-month limit. Research indicates that reviews lose their impact beyond this timeframe. To maintain influence, it is crucial for brands to regularly update their Top 3 reviews.
Strength
The reviewer of Booja Booja chocolate truffles was absolutely enamoured with the product, and their review reflects this sentiment. Their use of descriptive language, including words like "exquisite" and "sublime", combined with more objective descriptions such as "smooth" and "aromatic", leaves no question as to their opinion of the product.

Credibility
When a reviewer claims relevant expertise in the product's performance, their review gains increased influence. For instance, an Ocado reviewer from South Africa who is knowledgeable about the taste of cooked meat, found a product suitable for weekday meals, but not quite up to par for weekend barbecues. Believability is key, and authority can significantly enhance the impact of a review.

Conformity
Just one positive review is unlikely to change a shoppers opinion about a product. As we have said you need at least 30 reviews before a shopper begins to see them as a credible number. From there, if the Top 3 are inconsistent, then the impact is very different from when all three are positive.
After reading the first 5-Star review below, you might be tempted to buy. After the second 3-Star you might decide to read on. The final 1-Star review is likely to put some doubt in your mind. Even a little doubt is often enough to get someone to switch to another option.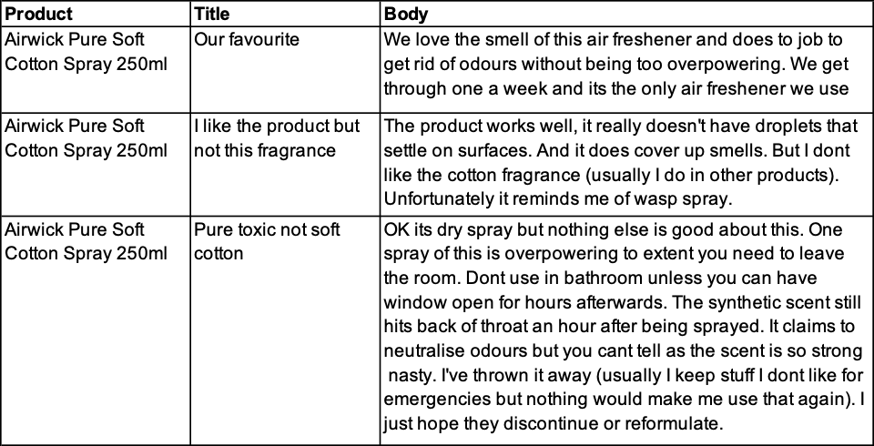 Compare the above to the three 5-Star reviews for L'Or below. The reviews are varied, descriptive and two have repurchase recommendation. If you are considering a new Nespresso style coffee pod, then you would likely be persuaded by these kind of reviews.

Readability
As reviews are presented in the same format on retailer sites, then variations in layout are not normally an issue. Therefore it is about how easy the review is to read and comprehend. Let's compare two reviews on the same product.

The first one lacks some punctuation and is written in simple language with an average word length of 3.8. The second one has an average word count of 4.6, is more articulate and has better punctuation. It also talks more about how it works and and not about the price.
Relatability
It is clear that readers will regard reviews from "people like me" or "people in the same situation as me" ie relatable or relevant reviews as more important in their choices than ones without the same characteristics. If you are a mum with a six month oldish baby, then this review would be exactly what you are looking for.

The review is not only relatable to mothers of 6-month-olds, but it also highlights the primary functional advantage of the product and how it performs in that regard.
For many non food items with a functional delivery such as Health & Beauty or Household cleaning items, this clarity of positive functional delivery is also critical to an influential review.
How do you know if you have best reviews?
To know if you have great reviews, you need to regularly monitor what shoppers are actually seeing on supermarket websites. As a minimum you should know:
Total number of reviews visible to shoppers (Get above 30 and then keep them fresh)
Average rating of those reviews (in reality as long as it is above 4.0 and ideally towards 4.5 you are fine)
Lowest rating of the "Top 3" reviews (well that is what shoppers read).
Age of the oldest of the "Top 3" reviews (reviews go stale after 6 months)
Influence Score of the review ie how likely is the review to influence a shopper to buy your product (as we know, not all 5-Star reviews are equal).
You should track these for all your products across all the major supermarkets and take action when any of them are not where they should be. That is, you should actively seek new reviews (BTW it takes an average of 571 days to organically add 30 reviews on Tesco.com, so you can't afford to just wait around).
You should get more reviews any time you:
Don't have 30 reviews on every SKU in every retailer. As a minimum that should be Tesco, ASDA, Sainsburys, Morrisons, Ocado & Waitrose but you should also consider Iceland, Boots and Superdrug where relevant
Have a lowest rating of the "Top 3" that is not representative of your product eg 3-Star or less for an average rating of 4.0 or more
Have any "Top 3" reviews that are more than 6 months old
Example Top 3 Category Report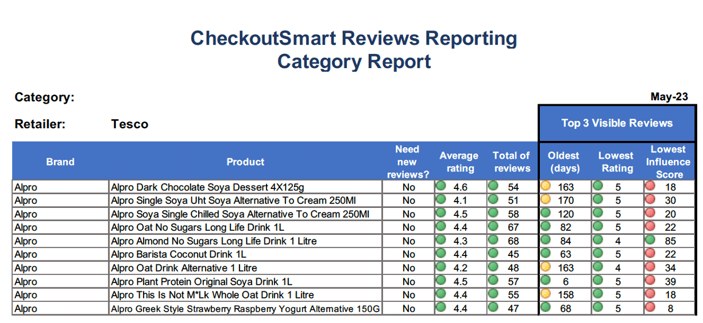 CheckoutSmart can provide you with flexible reporting options to tell you exactly where you are and which products need new reviews. Contact us to know more about our reporting and insights options.
How do you get and maintain the best reviews?
You can of course manage the whole analysis and review finding process yourself. You should do this if you already have the relevant data reports covering all SKUs in all retailers including the appropriate measures of the Top 3 reviews. But...
Do you really want to spend your time actioning getting new reviews every six months or every time a rogue 1-Star review is left on one of your SKUs for all you SKUs in all retailers?
The ideal solution is to outsource the reviews management process to a trusted 3rd party such as CheckoutSmart. Our SmartReputation Always On process delivers exactly this solution. With Always On we create a specific 3-year program of reviews of your SKUs. Every 6 months we will deliver new reviews on every SKU in every retailer, guaranteeing they stay fresh, relevant and competitive.
We will also automatically alert & action – sourcing more genuine reviews on a SKU where there is an unfair perception coming from a recent unrepresentative review. We will also produce 6 monthly reports updating your business regularly with the total number and average ratings of reviews etc.
We will take care of your ratings and reviews,
so you always know they are being monitored and actioned.
That is one less thing to worry about.
---
Do you know if your products are underperforming due to poor Top 3 product reviews?
If you want to find out more talk to us about how our SmartReputation "Always on" solution can help maximise your sales.