With all the pressure from retailers and the fact that many brands have postponed their FMCG NPD launches until the second half of the year, we thought it would be helpful to review the shopper marketing options available to support NPD in supermarkets.
For those new to working with the major supermarket retailers in the UK, navigating your way through the variety of shopper marketing options can seem like the proverbial minefield. We've spent the best many years working for FMCG suppliers and supporting them as an agency. With our collective experience, we have broken down the pros and cons of each option in the hopes it will help you identify the best course for your product's unique marketing challenge.
We've grouped our thoughts under the kinds of questions you should be asking yourself when you are planning a shopper marketing campaign:
What's your goal?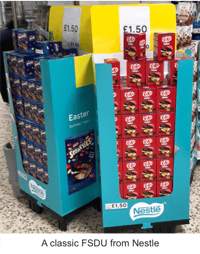 Before your pick your shopper marketing tool you have to understand your objective. What specifically is it that you're trying to achieve?
For NPD it's usually quite easy; you want people to try the product. OK, so the goal here is two-fold. Firstly you want to get the consumer to actually purchase the product (See our post on the 3Ps of Shopper Marketing: Pause, Pickup & Pay). The Pay part is crucial because by purchasing the product the shopper is making a clear psychological commitment, unlike when they receive a freebie or test a product in-store.
The second step is to get them to try the product at home. This is important because in most instances, that is where the product will normally be consumed, so psychologically, this is the best environment to get the consumer to commit to re-purchasing your product. Not say, walking to the office from the train station.
Other goals could include driving rate of sale, increasing brand awareness or communicating an on-pack competition.
What's best for each objective?
Well, NPD trial and rate of sale are both sales goals. Therefore price-related options such as in-store promotions, coupons and mobile cashback apps that focus on driving immediate sales are all great tools. If shoppers try your product the first time they become aware of it then you should see an immediate benefit in Rate of Sale (ROS) and there is a good chance it will be bought again especially if you are able to follow up the initial purchase with the same shopper to get them to buy 2-3 times which leads from trial to conversion.
If your objective is more brand awareness / competition related, then you need to look at advertising biased options. These could include tools like 6 Sheet posters (think bus stop sized posters at or near supermarkets), online advertising, mobile cashback apps marketing options, and video advertising. The immediate impact on sales will be less than price based options but you hope that your creative imagery will leave a lasting impact on shoppers.
What's your budget and lead time?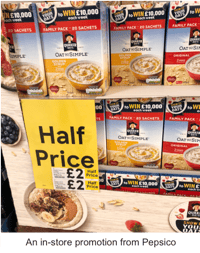 Once you've identified your main goal, you need to start looking at your budget and lead time. Most options can be run for varying budgets, but in-store promotions, FSDUs (with a promotional offer) and loyalty card activity will have the highest minimum spend, whilst digital options will generally have a greater budget range available.
It's also important to decide whether you're happy to estimate a budget with some risk either way (overspend or under-delivery), or if you would prefer the cost and delivery to be known and fixed in advance. Tools with unspecified final costs can include in-store retailer led promotional activity and paper couponing where redemption rates are unknown. Fixed budget program include the more advertising led options and mobile cashback coupons.
In terms of lead time, generally printed media will take longer, with anything up to a +12-week minimum lead time, whilst digital options such as mobile cashback can be booked and started the same day. For more on digital cashback see here: The Top 10 Ways Cashback Apps Help Grocery Brands.
How flexible do you need the campaign to be?
Many brands choose to prioritise flexibility when choosing between traditional and digital media shopper marketing options.
Taking what we call FSDUs (or "dump bins"), security shrouds and other in-store displays may be good options, but if you want to bypass retailer agreements or make changes to your activity once it's started (for example changing the retailers, products or even the mechanic) then digital is best.
If you're looking for a much more flexible option that can reach both in-store and online shoppers, you should consider mobile cashback from operators such as CheckoutSmart (Europe's No.1 provider). Using a digital solution, like a cashback or couponing app, means you can apply changes to the campaign instantly without friction. This allows you to optimise the activity according to performance, whilst taking into account other important metrics across your wider marketing campaigns.
You should also consider when you want to reach the consumer in the shopper journey, in order to have the most impact. Whilst many shopper marketing solutions have just one touchpoint, a more robust solution will reach the consumer before, during and after the shop. See our analysis of When do grocery shoppers shop to get an insight into the best days of the week and time of day to run your activity.
Again, digital apps can provide this 360° marketing approach with greater ease than other solutions because they tend to have owned audiences they can market and re-market to. This means that follow up activity is simple and can form part of your original plan.
Most digital app solutions, like cashback or couponing apps, will provide a robust strategy designed to reach the shopper at multiple touch-points across their journey as standard. They can also provide follow ups direct to the shopper such as further offers to drive cross selling or higher weights of purchase. Aside from offers brand owners can drive their retailer .com Ratings & Reviews with a group of known buyers or get survey feedback within a few days from their buyers in terms of their experiences and likelihood to repurchase.
A simple summary of the Shopper Marketing options
Well, we've covered a lot of ground on a large topic, but hopefully this offers a useful overview. To help summarise our experiences of the main supermarket shopper marketing options available, we've created the comparison table to highlight the various pros and cons: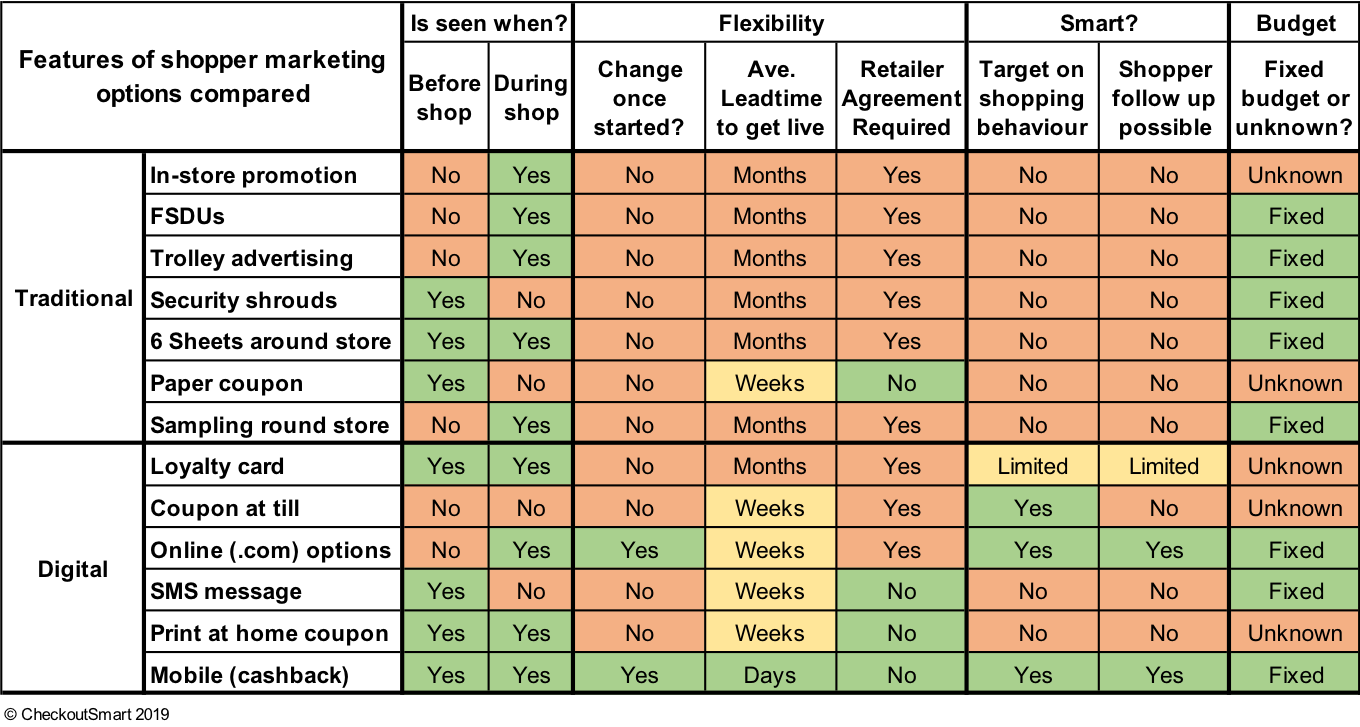 NB This is not meant to be a definitive statement of facts for all (UK) supermarkets, but rather a best-effort summary based on our extensive practical (and sometimes painful) experiences in shopper marketing.
We have more on the history of Shopper Marketing here. If you're interested in learning more about how we can help you with your Shopper Marketing goals feel please to: