In the second month of their online grocery shopping tracker, CheckoutSmart continues to bring fresh insights into this fast-growing, fast-changing market.
NB The numbers below are deliberately obscured, if you would like to know the answers please contact us.
Using feedback from thousands of grocery shoppers each month, CheckoutSmart tracks the usage of the online grocery supermarkets, Amazon grocery, Food Aggregators and Q-Commerce all in one place.
This allows brands & retailers for the first time to:
Track the scale and trends of each grocery delivery sub-sector and the players within them.
Ask their own bespoke questions of this group with a turnaround time of just 7 days
Make decisions about their investments and the relative importance of each player
Use the data to engage with their businesses in discussions about the prioritisation of channels and the resources required.
From the March 2022 survey we know Xxxxx leads all players in grocery Household penetration: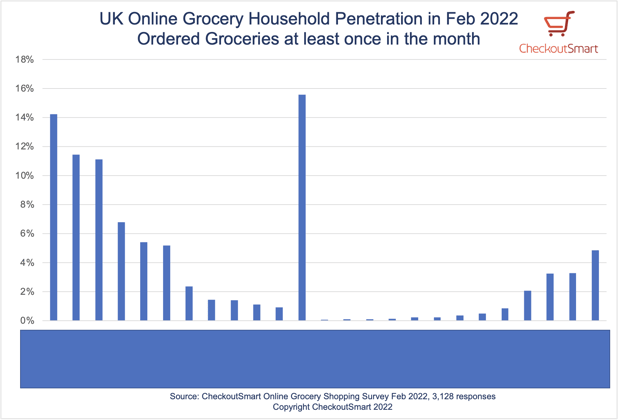 Xxxxx (16% of households) leads online grocery household penetration in February 2022 with Yyyyy (14%) second ahead of Zzzzz (11%) and Aaaaa (11%).
Q-Commerce has a low overall monthly household penetration at just under 4%.

Bbbbb leads the players at 2.5% with Ccccc around half the penetration at 1.3%

Q-Commerce has a much younger profile than other channels with 82% of users under 44 years old. Next are the Food Aggregators at 74%, with Amazon and the Supermarkets having quite similar age profiles with 52% and 58% respectively.
Amongst Delivery Aggregators, looking this month just at Grocery purchases Ddddd has the highest penetration (4.9%), followed by Eeeee (3.3%) and then Fffff at 3.2%.
Further insights included in the full presentation: Channel usage by grocery category, Demographic data (Age, Sex, Region, by channel), cross usage of channels, frequency of shopping for Supermarkets & Amazon, Channel usage by shopping mission and more.
Each month CheckoutSmart produces a consistent, comparative measure as well as clear trends of winners and losers. Each survey, including bespoke questions, will be available within 10 days of launch. Nearly 400 Q-Commerce users are available for more in-depth study if required.
Summary data from the February survey is available from CheckoutSmart for potential clients at no cost. On-going subscriptions to the full results including 2 closed questions of their choice per month is only £1,495 for a rolling contract or only £14,950 for 12 months.