Updated May 2021
We had a tremendous response to our first post in post in March 2021. Since then we have found no less than 9 more providers to add to our list as well as New kids on the block Brand Nudge. All the tables below have been updated with the latest information available.
Introduction
As a leading digital shopper marketing agency, we work with hundreds of FMCG clients a year. Through delivering our ratings & reviews solution for brands in grocery supermarkets we have either worked directly with or been privy to reporting on digital shelf from the top suppliers around the world. We are also asked regularly by clients, who do we know or would we recommend working with on grocery digital shelf analytics, monitoring and reporting.
There is of course no simple answer to who to work with. There has to be a good fit between the supplier and the client. A Tier 1 multi-category, multi-country brand led manufacturer should probably work with a supplier who can satisfy their teams across their priority markets. Likewise, if you only have one category in one country, then a smaller local player may be a perfect fit.
Below are the main grocery digital shelf reporting providers we are aware of and some areas for comparison to help you choose between them, as well as links to their sites for easy reference.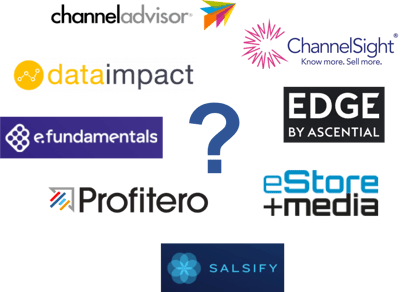 Please Note: All best endeavours have been use to create this data but no reliance can be placed on this content and we advise all users to check with original sources. All data is from public sources / supplier websites. Suppliers are sorted alphabetically and nothing in this article is to be taken as an endorsement of any supplier.
The list below will be updated on a regular basis. Latest update March 2021
Digital shelf analytics suppliers compared:
In the table below are the main players we are aware of within Europe and North America. The criteria for inclusion is solutions providers working specifically in the grocery digital shelf analytics arena across multiple markets and retailers and must include grocery retailers ie not just Amazon or the single country.
Who are the players?
Perhaps not surprisingly with the relatively advanced state of grocery ecommerce in the UK, 3 of the providers are from there with another 2 in Ireland.
**2018 Date of combined entity formation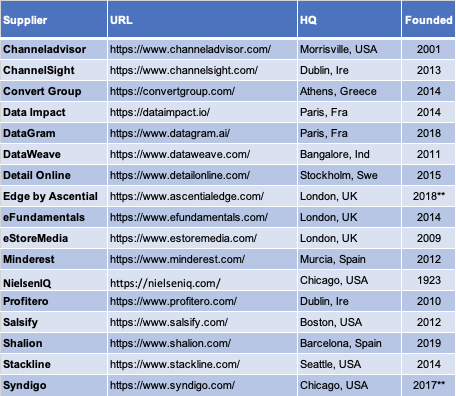 How Big are they?
Comparable financial data is difficult to find as many are private entities, therefore we decided to use employee numbers and their locations as indicators of overall business scale. The three biggest have most employees in the US.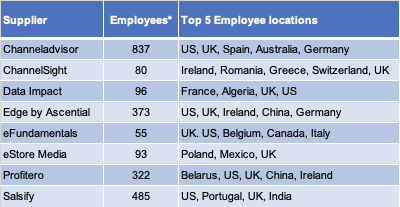 * Employees based on Linkedin search. Countries ranked by number of employees based there.
What do they Specialise in?
According to our reading of their websites, these are their Top 4 areas of focus as businesses. Naturally, all cover reporting and monitoring of the items on the digital shelf. Many also support syndication of content such as product information and imagery. All report on ratings & reviews referencing the important role this plays in shopper choice. For more on the importance of ratings & reviews.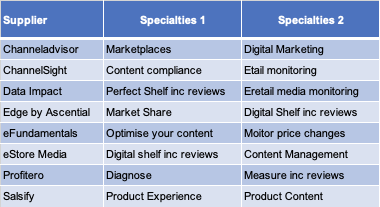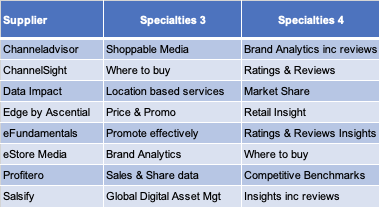 ---
---
Main website images and links
Channeladvisor
https://www.channeladvisor.com/
They say: ChannelAdvisor has been the industry's most trusted e-commerce solution, helping global brands and retailers solve their marketplaces, digital marketing, direct-to-consumer, first-party retail, drop ship and fulfillment needs — all in a single, centralized platform.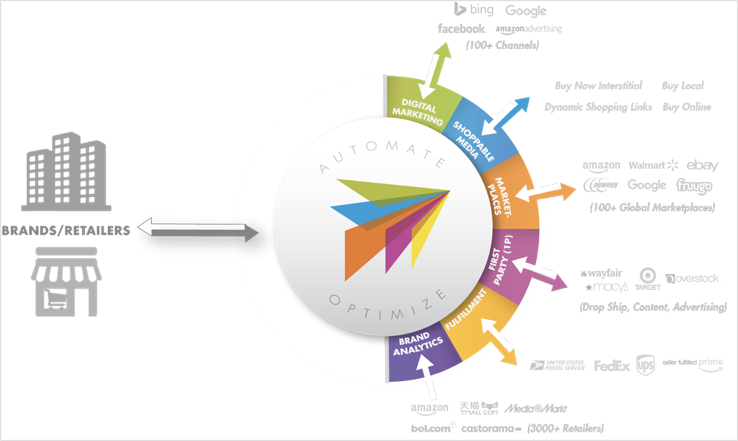 ---
ChannelSight
They say: Build the perfect toolkit to optimise your path to purchase. The eCommerce Intelligence Platform for every product, every journey, every KPI. Mix and match our solutions for compliance, conversion, and intelligence. Know More. Sell More.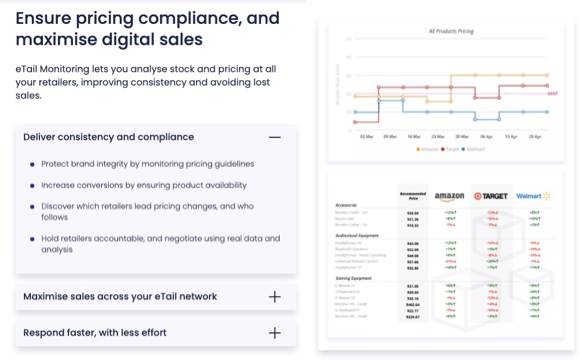 ---
Data Impact
They say: Digital shelf accelerator for CPG brands. Grow your sales with the only accurate data analytics platform in the industry. Our solution is global and scalable.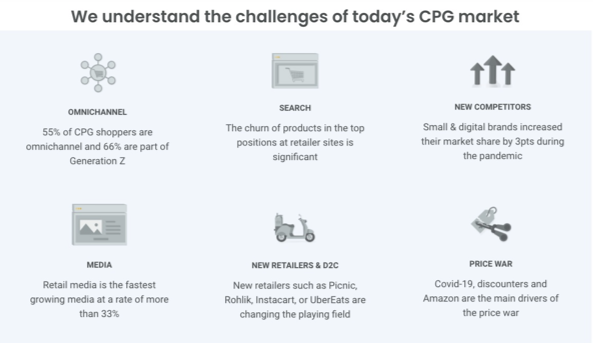 ---
Edge by Ascential
https://www.ascentialedge.com/
They say: Digital commerce, decoded. Combining actionable insight, retail forecasting and advisory to help brands
act today and win tomorrow.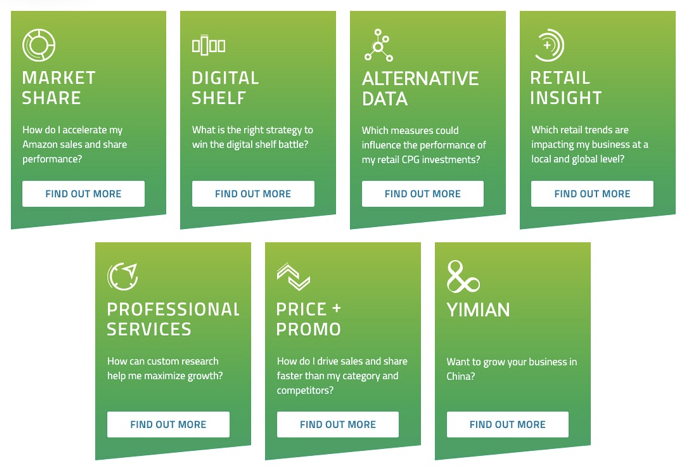 ---
e.Fundamentals
https://www.efundamentals.com/
They say: e.fundamentals is the leading digital shelf analytics provider for CPG brands looking to analyze, measure and optimize eCommerce performance. We turn complex data from hundreds of retailers into actionable insights that enable eCom teams to take fast actions to drive sales and conversion on the digital shelf.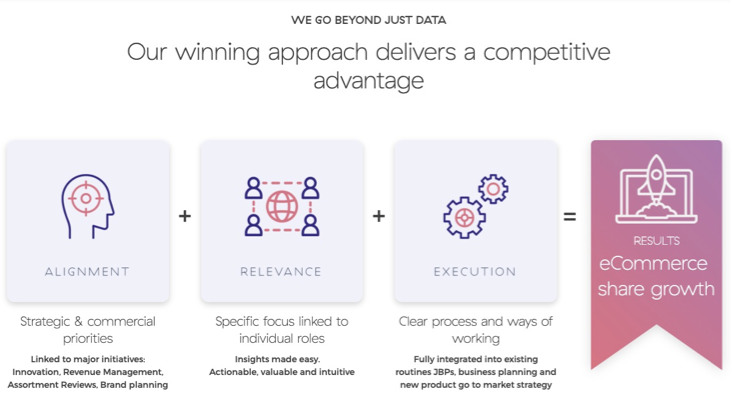 ---
eStoreMedia
They say: eStoreMedia provides consumer product manufacturers with SaaS to maximize e‑commerce sales. It is the only integrated suite of eStore Shelf Analytics, Product Information Management and Al‑based research methodologies. Proven by Fortune 500 Brands
---
Profitero
They say: Accelerate your eCommerce sales. Profitero is the actionable eCommerce insights platform, powering sales for 4,000 brands, across 600+ retailers, worldwide.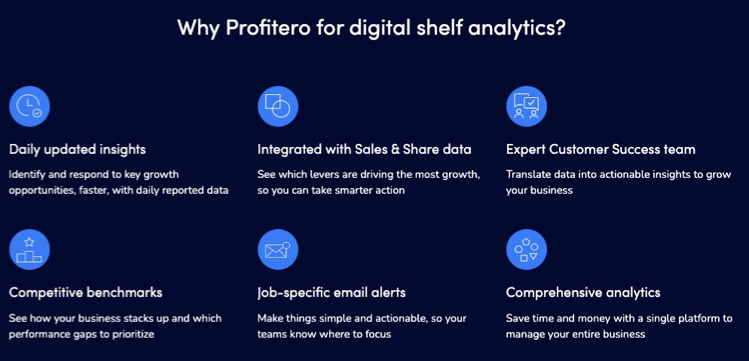 ---
Salsify
They say: Commerce Experience Management for the Digital Shelf. Whether you're selling wholesale, through distributors, on marketplaces, through social commerce, or directly on your own brand sites, Salsify's CommerceXM platform powers the experiences shoppers demand at every stage of the buying journey, everywhere on the digital shelf.
---
New kid on the block
Brand Nudge
Although not part our main benchmarking, we wanted to give a mention to recent entrant Brand Nudge as one to keep an eye on, based in the UK:
They say: We exist for one reason, to help your brand grow faster online. Our proprietary technology and team have the capability and experience to ensure you know how to navigate and how to win in the complex world of online retailing. The Brand Nudge platform takes the pain out of thousands of store visits every day, and has the broadest range of metrics.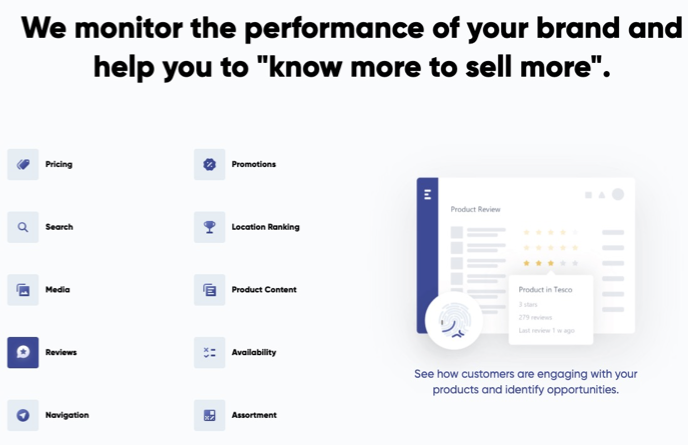 To know more about how we work with branded FMCG suppliers and digital shelf solutions providers to deliver genuine product reviews then please contact us.
If you are a digital solutions provider and would like adding to our list, then please contact us also.