The event held in London was an intimate and relaxed gathering, featuring a knowledgeable group of industry experts who weren't there to push products, but rather, to share their thoughts and ideas. The audience consisted of a diverse mix of food and beverage manufacturers, food service providers and operators, and a handful of retailers, contributing to a well-rounded and informative day filled with lively conversations and shared insights.
Rather than rehashing the entire agenda, my intention is to provide a condensed summary of the relevant topics, with a focus on novel and significant areas. However, summarising is not an exact science, so my apologies if I missed any insightful comments made by presenters.
The Food industry challenges
My overall summary of the themes for the day: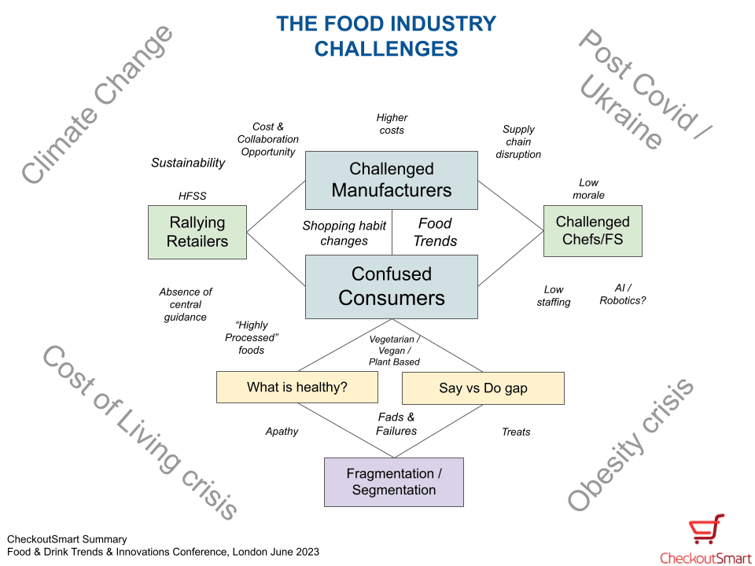 Consumers are the focal point of the food industry, especially when it comes to healthy eating. However, there is a great deal of confusion surrounding the subject, with even some industry experts admitting to being perplexed. While the trend towards plant-based eating seemed to be the solution, it has recently encountered a backlash following Tim Speak's concerns about highly processed foods.
Manufacturers are struggling with the rising cost of inputs, which have increased by 20% or more, and grappling with the complexities of achieving sustainability goals. On the other hand, retailers are combatting the cost of living crisis by encouraging shoppers to switch from branded products en masse.
The Food Service industry is facing a tough time as shoppers are choosing to eat out less frequently, leading to a decrease in footfall and morale. Staff shortages only add to the challenge. While some suggest that technology like robots could help alleviate these issues, the question remains whether they will be cost-effective enough to make a significant impact.
Looking at the latest trends in a bit more detail:
Consumer Trends
Consumers are rightly confused about "What is healthy eating"

HFSS is only sugar, salt and fat and is being ignored* or worked around in some categories eg desserts as it makes no sense "Who would buy dessert that not sweet?"
This leads to apathy but also fragmentation
Most recently it was Vegan / plant based but is some of that "Highly processed" and therefore not the panacea it once was?
A distinct lack of consistent government guidance is not helping:

Segmentation shoppers and consumers remains key to finding consistent sales, be clear who you are appealing to and it is not everyone.
The generally quoted "Mega trends" continue and are often polarising by occasion:

Convenience / Customisation
Healthy Eating

/

Indulgence

Quality led / Value scrutiny

Dine in for dine out. The continued rise of "Dine in" options such as M&S Dine in for 2 as a replacement for eating out. See Foodservice Trends below.
* "Ignored" - manufacturers and retailers are choosing not to put desserts on end rather than re-formulate them to meet the non HFSS requirements.
Manufacturer Trends
Cost inflation has been +20% only some of this showing up in retail prices so far
Focus on sustainability moving from the obvious housekeeping into the deeper challenges.
Category remains the best way of working to win for the retailer, shopper and manufacturer. There is always room for smaller brands, they bring the agility and innovation that the larger ones struggle to get to.
Lots of statements around using data to make more decisions and an expectation that this would improve the success of NPD but no examples where this has been shown to be consistently true.
The "Big food redesign" was referenced a few times (more here:

https://ellenmacarthurfoundation.org/

) as a sustainability initiative and a challenge to the industry to work harder to make food part of the circular economy.
Retailer Trends
Post Covid and with the onset of the cost of living there have been a number of broad trends for shoppers as they battle to make ends meet. BTW a number of presenters were quoting Kantar research, which helpfully the BBC have just done a summary of: 'Massive shift' in food shopping habits as prices soar.
Shoppers are making fewer bigger shopping trips to control spending, although total spending is up due to inflation
There has a been a general switching from brand to own label

Also from mid-tier to value own label

Online share has come down since the peak in Covid of 15.4% but holding / growing now at 12% and still significantly bigger than pre-Covid (8%)
The Discounters are continuing to grow with Aldi and Lidl getting 23% share between them
Shoppers are turning to loyalty schemes and other ways to save such as cashback apps.
Food Trends
Consumers are eating out less frequently but holding on quality of outlet. This is bringing footfall down for operators especially earlier in the week, with some quoting closures on Mondays / Tuesdays.
53% of people said they were "Going out less" and 49% said they were "Spending less" than before the cost of living crisis.
Newer cuisines that are expected to become more common:

Cuban / Japanese / Korean / Middle Eastern
Italian fusion & regionality think Korean BBQ pizza or Tuscan specialities
Pan African
FoodService Trends
There were a couple of overlapping presentations, but you can get more on the Foodservice Trends from Bidfood here
The highlights for me were:
Vegetables as the "hero" ingredients in main meals

Mushrooms and potatoes as heros not just sides

Detroit Pizza (think rectangular, thick sourdough pizza eg https://detroitpizzalondon.com/about/)
Signature cocktails, ie unique to the restaurant / chain will continue
Rum and Tequila to rise as the tsunami of gin slowly retreats
Supply Challenges
Supply chains in the food industry continue to face major challenges, including rising costs, sustainability concerns, and issues with reliability and traceability. Companies are working hard to maintain stability, but with no end in sight to the war in Ukraine, improvement may be slow. Some suppliers noted a small improvement due to the strengthening of the pound against the USD over the past nine months.
Additionally, the high failure rates of new product development (NPD) are seen as a sustainability issue, with one panelist commenting that there is room for improvement in the current 80% failure rate and the associated waste.
SPEAR - The measure of a Health Eating Policy for the nation
The topic of healthy eating was a recurring theme throughout the event, and it was clear that there is a lot of confusion surrounding the subject. One of the main challenges is the lack of clear and consistent recommendations from the government, NHS, and the food industry.
It's a complex issue that requires strong leadership and practical solutions that are convenient and affordable for everyone. Segmentation may be necessary to find a tailored approach that works for different groups. Nonetheless, there is an opportunity for someone to step up and provide clear guidance on what constitutes healthy eating.
Hearing the discussion, here is my view of what such a health food policy / recommendation need to be to be successful?
Simple (easy to follow for all parties and consistent over time)
Practical (convenient to buy, easy and quick to prepare)
Everywhere (implemented in Grocery / Food Service / On the Go)
Affordable (for shoppers, retailers, manufacturers, food service operators)
Rewarding (enjoyable, tasty, varied, interesting, satisfying)
The Event
The event was organised by Global Insight Conferences as one of many they run each year. CheckoutSmart were not asked to attend or review the event by the organisers and paid to attend.