Helping smart brands succeed
we deliver genuine online supermarket ratings & reviews for cpg brands
At CheckoutSmart we are experts in the delivery of smart digital solutions for CPG brands. From our early days in the UK to our presence across Europe and North America we have always been dedicated to delivering the most effective programs on behalf of our clients. Whether that be digital coupons, shopper research, white label campaigns or our big growth area of online supermarket ratings and reviews we have a reputation for listening hard and then fast client delivery.
This page is intended for our US clients where we are focussing on delivering genuine online supermarket product reviews on behalf of our clients. If you require our services in Europe, please go here: Checkoutsmart Brands Europe
---
About Us
Checkoutsmart - UK, Europe & US
CheckoutSmart was founded by two UK CPG experts who have long experience working in Sales & Marketing for US based CPG corporations such as Procter & Gamble, Mars Inc. and HJ Heinz. As a shopper marketing agency we are dedicated to delivering on behalf of our clients and come with a strong reputation for fast and impactful execution.
Growing from our base in the UK, we first expanded into Europe with programs delivered in markets such as Germany and Spain.
Next we launched into the US where we partnered with a large local agency to bring SmartReputation our easy online ratings & reviews solution to market.
Why are online product reviews so important?
They are your digital reputation
Online product reviews are the main public source or a brand's reputation for shoppers and where they share their feedback.
Shoppers are 21% more likely to leave a review based on a negative experience1
94% of members of the public have avoided businesses based on online reviews1
Reviews are the source or your reputation for shoppers. 88% of people trust online reviews as much as they trust their best friends' recommendations 22
Proven rate of sale benefits of 25%-35% in online sales plus the ROPO effect (ask for our UK case study)
Google & Amazon search ranking benefits and in some online grocery retailers
Create obvious stand out and value vs your competitors, especially private label
CheckoutSmart offers you the opportunity to use genuine grocery shoppers to balance the feedback and reviews left on your products

Which are the most impactful reviews?
From our own quantitative research we know the most impactful ratings & reviews are:
Recently created: The most recent reviews should ideally be less than 6 months old.
Exact sku: They must be about the specific product involved. Ie the flavour / variety not the whole sub-range / brand.
Verified purchasers: From real "verified purchase" shoppers who have bought the product for themselves and not just sent it in the post or given it in the street.
Impactful number: Enough reviews to be give a reader confidence in the average rating, a minimum of 30.
Everyday language: They must be varied and true shopper speech, that only independent unmoderated content can deliver
With a variety of views: Generally, higher ratings (4.2-4.6) will drive higher rate of sale, but clearly honest, varying in content reviews including a mix of positive and some negative reviews comments have the highest impact on rate of sale.
---
How do we get Ratings & Reviews?
Directly from the grocery shopper
Our reviews process means that the reviews come directly from ordinary supermarket shoppers who have gone to the store and bought the product for themselves. Our Reviews are therefore unmoderated, genuine feedback on your product.
We can deliver reviews for any online supermarket or drugstore chain in the US & Canada. Campaigns deliver an agreed guaranteed minimum number of reviews (usually 30) for each specific sku in a period of 4 - 8 weeks from the start.
From our UK client's feedback and other studies we have seen, there is a 25-35% increase in on going rate of sale from getting 30 or more reviews in a retailer. This provides a tremendous return on investment.
Here's how it works: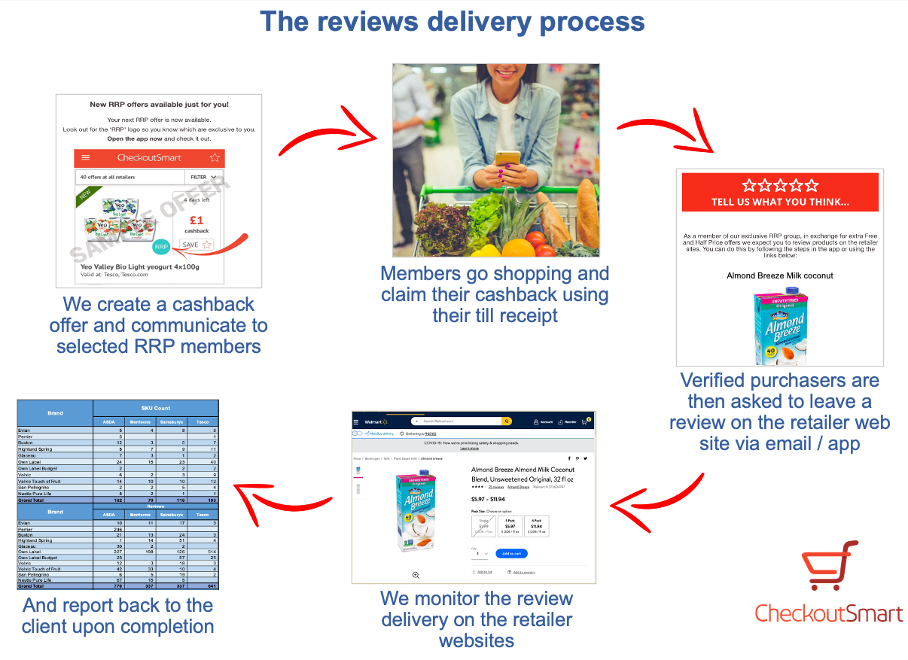 For a detailed discussion on how CheckoutSmart can work for your brand please get in touch
---
---